Stained Concrete Northwest, AR
Concrete staining is one of the best ways to add aesthetic appeal to your concrete floors. However, staining does more than just enlivening the surface. When handled by professionals, stained concrete floors can project some desirable properties like lifetime durability, versatility, and low maintenance.
In today's market, homeowners and concrete contractors alike prefer stained concrete for various applications. At NWA, we install, repair and resurface concrete floors to the satisfaction of our clients in Northwest Arkansas. Whether you need acid stained concrete or those treated with concrete dyes, we will provide a wide range options for your needs in Bentonville, Fayetteville, Rogers, or Bella Vista.
Garages
Kitchens
Living Rooms or Bedrooms
Driveways
Patios
Pool Decks
Benefits of Stained Concrete Floors
The advantages of staining couldn't be more obvious. Most reviews and testimonials from customers and contractors depict staining in a positive light with various benefits including;
Durability

Concrete surfaces are generally very solid and durable. When stained, concrete floors offer unmatched resilience and footwear resistance. Stained concrete is also resistant to chipping, peeling, fading and discoloration caused by UV light. Stained concrete is perhaps the most durable in the market and still provides remarkable aesthetics.

Decorative

One great thing about stained concrete is they drastically expand available options and can be designed to mimic some of the high end finishes of granite and marble floors. The appeal of stained concrete is immediately improved by adding just one color. With all the existing color options, staining can help you achieve elegance and marvelous style.

Energy Efficient

Stained concrete boast thermal mass which basically allows it to absorb and store heat/cold. It then releases the energy back to the room in a smooth transition so you do not have to overload heating and cooling appliances. Stained concrete floors can therefore help you reduce energy bills over the years.

Water Resistance

Moisture and water are notorious floor damagers and can quickly cause warping, rotting or discoloration. Most floors will suffer some kind of damage when exposed to moisture. Staining eliminates the problem although it can allow some moisture to penetrate the concrete without causing any damage. Water resistance also makes cleaning and maintenance stress-free.

Low Maintenance

Cleaning and mopping is all you need to maintain a stained concrete floor. They virtually have no need for maintenance and can last several years. You may occasionally polish stained concrete installed in high traffic/impact places like garages.

Other benefits of stained concrete floors include improved indoor air quality, versatility and eco-friendly status. Stained concrete floors are made from recycled parts and can be installed in any room.
Concrete Staining Services
Stained concrete is a popular choice for most people in Northwest Arkansas. As such, we have modern state-of-art equipment to achieve the best results possible. Whether you want to add a few color hints to match your indoor interior décor, or need to mimic natural marble, NWA will provide experts for the task at hand. We offer concrete installation, repair and maintenance services for different applications and can install the best stained concrete flooring in any space. Whether you need it for your kitchen, bathroom, entryways, garage or basement, our technical team has the experience to produce exactly what you envision. We also serve residential and commercial needs including custom graphics, colors and bold accents that will hallmark and isolate your outlet from others.
Stained Concrete Decks & Patios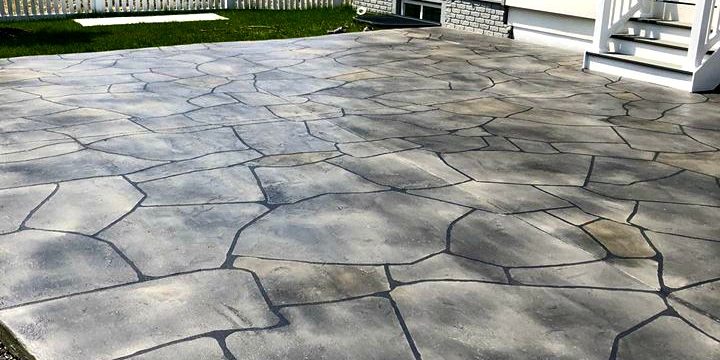 Stained concrete deck are heartwarming and can improve both aesthetics and transition from indoor to outdoor spaces. When linked with concrete pathways, they complete your home appearance and will stand out in your neighborhood. You can choose from a wide range of decorative effect for the most ideal solution for your backyard. We can also help you create resemblance to marble, granite or quartz. When installed in pool decks, stained concrete immediately increases decorative appeal while reducing maintenance work required. At NWA, our delight come from installing elegant stained concrete patios and deck that align with your unique goals and style. You can contact us any time of the day to night for any questions regarding our concrete services.
NWA Concrete Floors is Here for Your Project
Whether you need commercial stained concrete for your business or decorative stained concrete for your home, our experienced team professionally polished and stains concrete slabs into beautiful works of art. Call today for a FREE QUOTE. We will consult with you to determine the best options based on your needs.
HOURS
Mon-Friday: 9am-6pm
Saturday: 9am-4pm
SERVICE AREAS
Springdale | Fayetteville | Rogers | Bentonville
And Surrounding Areas