Epoxy Flooring Northwest Arkansas
When it comes to choosing the right flooring for your home or facility, there is a need for careful consideration. Whether you are undertaking a home improvement project or want to update your floors, you can enjoy many benefits with epoxy flooring.
Epoxy flooring will not only give your home beautiful and lasting results, but it will also enhance its value. NWA Concrete Floors is well-renowned for its epoxy flooring services in Northwest Arkansas. From epoxy concrete repair to metallic epoxy floors, we are your one-stop-shop for your flooring needs. Contact us today if you want true professionals to help with your epoxy flooring needs.
Garages

Home Interiors

Auto Shops

Warehouses

Commercial Kitchens

Machine Shops
Retail Flooring

Industrial Flooring


Medical Offices and Medical Facilities

Restaurant & Food Industry

Factory Floors
Commercial Garages & Showrooms
Fast Installation

One of the reasons why epoxy flooring is growing in popularity is because of its ease of installation. Unlike other flooring systems, we can install epoxy flooring within a few days or weeks, depending on the size of the area.

Extreme Durability

With epoxy flooring, you can be assured that your floor will handle almost anything you throw at it. Whether you deal with heavy traffic, harsh cleaning products, dropped objects, or heavy vehicle movement, you can count on our epoxy flooring for years to come.

Chemical Resistance

If you are thinking about installing epoxy floors for your commercial or garage facilities, you will appreciate the fact that it has excellent chemical resistance. Epoxy has a solid top coat that won't break when exposed to oil, corrosive liquids, or harsh chemicals.

Easy to Maintain

Epoxy resin is very easy to clean and maintain; something that is unusual with other flooring solutions. With just a broom and a mop, you can get your floor looking spotless without needing to wax or polish it.

High Reflectivity

If you need your space brightened up, it is high time you consider installing epoxy flooring. This coating is highly reflective and brightens any space by up to 300%.
While a garage space doubles as a room for your car, storage unit, or home gym, it is without a doubt the most ignored part in most homes. Such a space is an essential part of homes, which is why it must be cared for to ensure its longevity and durability.
A garage epoxy flooring coat in Northwest Arkansas is the best option if you are looking for an affordable and durable flooring solution for your garage. Epoxy is made through a chemical reaction of resin and hardeners which penetrate the concrete pores to create a durable protective layer.
Unlike concrete floors, epoxy is becoming extremely popular due to its ease of installation, longevity, and aesthetically pleasing nature.
At NWA Concrete Floors, we have the proficiency and equipment necessary for installing seamless garage epoxy flooring. With years of experience, our contractors understand the problems your garage is exposed to and have the ultimate solution to them all. Our team does the job with professionalism to ensure that your expectations are met. Most importantly, we offer the most affordable services than other companies in the area.
Apart from serving all commercial industries in Northwest Arkansas, NWA Concrete Floors takes pride in providing cost-effective flooring solutions for homes. Whether you are looking to transform the interior floors of your living room, bathroom, or kitchen, we will work with you to develop an epoxy that meets your unique needs.
When it comes to your home floors, don't just trust anyone. Otherwise, you will end up with a poorly done epoxy floor coating that can be expensive in the long run.
When working on your project, we put in years of experience coupled with professionalism to deliver superior results that will boost your home's value. Whether you envision a floor that is easy to maintain or a floor that can withstand almost anything, we are proud to announce that we can deliver.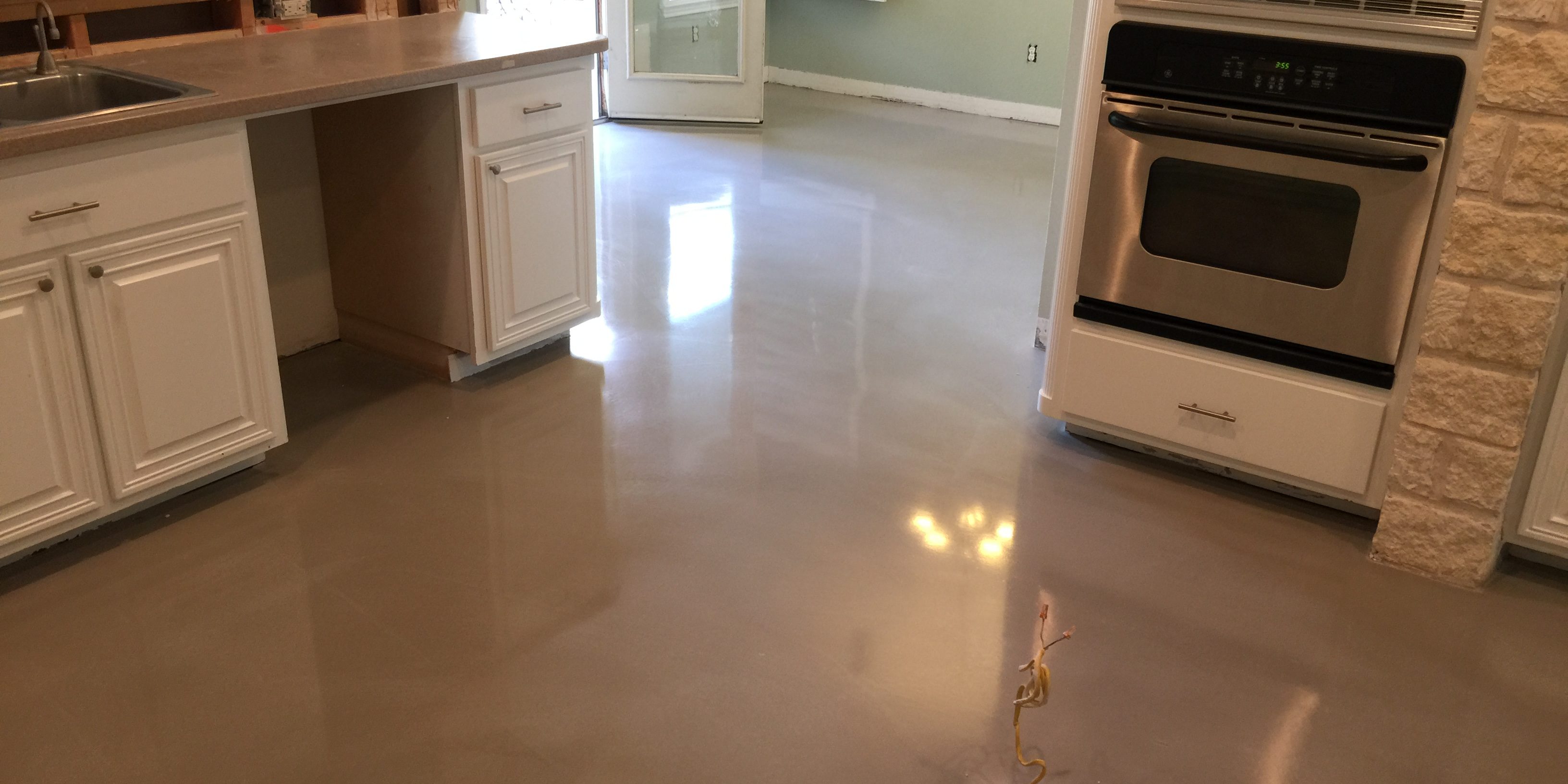 Tired of an epoxy flooring system with just one color? Go from dull to stunning with metallic epoxy floors. A metallic epoxy floor is a perfect solution if you want your residential or commercial space to stand out.
To achieve this breathtaking floor, we mix a liquid epoxy solution with metallic mica chip flakes. This creates an epoxy flooring system that looks like liquid water, flowing water, or lava. Since this flooring is created using the strongest types of epoxies, it offers both aesthetics and beauty without compromising on strength and durability.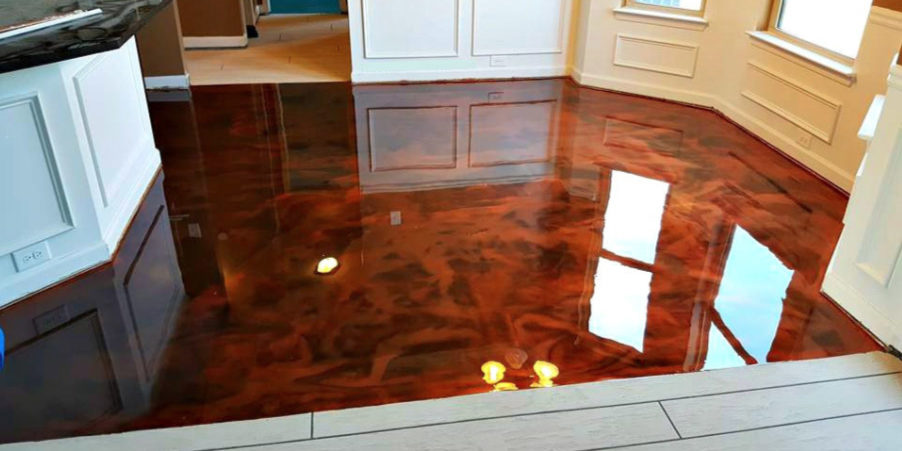 Epoxy flooring is increasingly becoming popular in commercial spaces due to the benefits it offers. Commercial epoxy is a high-performance flooring solution that can endure constant traffic, heavy vehicle traffic, and other demanding environments. Unlike other commercial flooring solutions, businesses can benefit from epoxy floors since they resist abrasion and stains, are very easy to clean, and have superior tensile strength.
If you are considering installing commercial epoxy floors on your business, you need a professional company like NWA Concrete Floors. As the leading commercial epoxy flooring company in Northwest Arkansas, we proudly serve commercial industries and businesses like auto shops, education facilities, retail stores, sports facilities, and many more.
We have the experience and equipment necessary to provide affordable epoxy flooring solutions. If you need help installing your commercial epoxy floors, reach us today at nwaconcretefloors.com.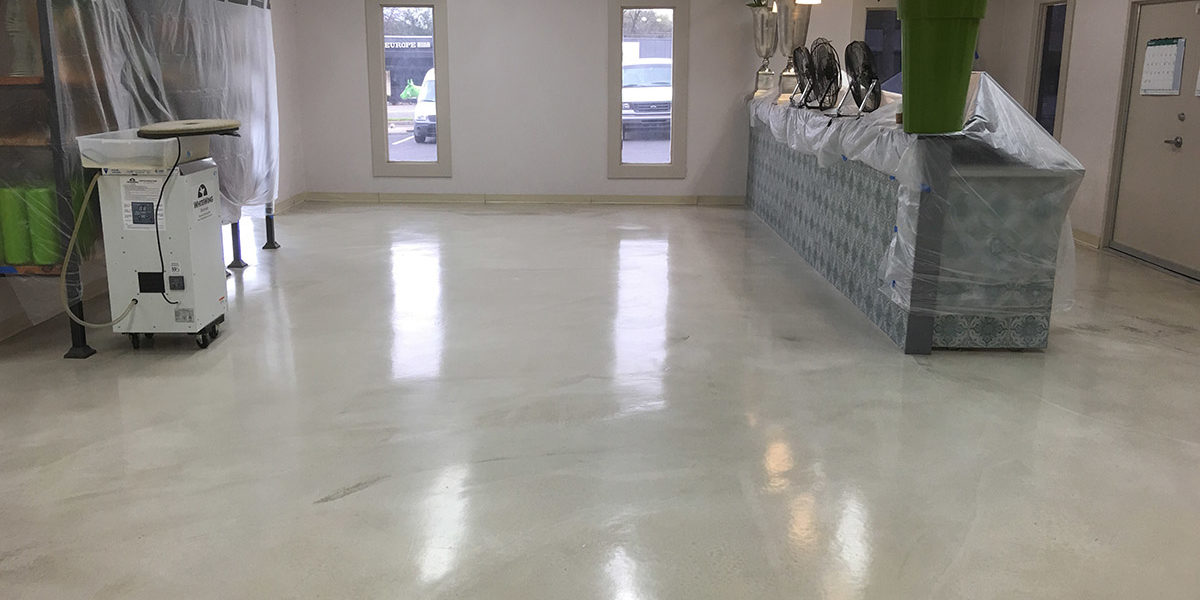 Are you tired of the cracks and damages in your industrial facility floors due to harsh environmental demands? Industrial epoxy flooring in Northwest Arkansas is what you need. At NWA Concrete Floors, we understand what environment your floor is exposed to, and we offer high-quality industrial epoxy flooring solutions at an affordable price.
With our epoxy floors, you will have a beautiful yet long-lasting industrial floor that requires little maintenance and can withstand abrasion, chemicals, water, and any other harsh products. This life-proof flooring system is common in most facilities as it maintains a clean and hygienic environment that is easy to sanitize.
Q: Is an epoxy floor long-lasting?
A: Absolutely, yes! Epoxy flooring is exceptionally durable and can last almost a decade, even in harsh environments. Compared to concrete, epoxy resin has the tensile strength to endure vehicle traffic, chemicals, wear, and abrasion. Just ensure that professionals do the installation.
Q: Do you offer epoxy flooring customization?
A: Yes, we offer both our commercial and residential clients with endless opportunities for epoxy flooring customization. We offer a wide range of colors and designs including metallic epoxy floor for homes. We can also create texts and logos for commercial facilities.
Q: How is the surface-preparation done?
A: Before we begin, we take time to do proper surface preparation to ensure that there are no stains or damage to the concrete. To prepare the concrete floor our installers will lift stains, sweep to remove debris, and fill up cracks to ensure a smooth surface. We will also repair damaged concrete floor using a diamond grinder to open up pores and help the epoxy bond well with the concrete.
HOURS
Mon-Friday: 9am-6pm
Saturday: 9am-4pm
SERVICE AREAS
Springdale | Fayetteville | Rogers | Bentonville
And Surrounding Areas